I must confess that I completely forgot to get any blogging done this month.
Reason #1: The first two weeks of June were the last two weeks of school for the little ones and so I was running here and there, doing my best to close down my library in time for summer vacation.
Reason #2: My transition from having two jobs to only one involved a lot of basking in the morning hours, complete with leisurely visits to cafés and bookstores, along with TV binges and full on video game immersion.
Reason #3: I had a huge TBR for this month and I was falling seriously behind for the first two weeks and so all I did in the second half of June is catch up on reading in my spare time.
There was more going on, but honestly, I just needed to take another step back from blogging and let myself read a book for the simple enjoyment of reading a book.
June is Pride Month, so I made it my mission to read as many LGBTQIA+ books as I could manage this month while also whittling down the list of unread books in my room.
I'm very proud to say that I DID NOT buy any books in June and I have no plans to buy any new releases in July either. Though, that may change if I find myself needing a new cover on the shelf.
Top Reads
Though I loved Morning Star, I think the second book of the Red Rising trilogy edged out to be the most captivating, especially with that cliffhanger of an ending!!! Also, just seeing Darrow rise up and fight made my inner warrior shout with delight.
Girl Mans Up was an impulse download. I was looking for an interesting LGBTQIA+ audiobook to listen to for Pride Month and this popped up. I gave it a go, and wow. Great narration, amazingly insightful, touching, maddening, and just plain good. The ending left me teary-eyed. Highly recommend.
Most Disappointing Reads
Standalone novels are hard. Nowadays, most books that are released are soon followed by several more installments. Telling a succinct, understandable, and captivating fantastical story in one single novel is challenging. It takes time to build up the world, the characters, and the conflict. And unfortunately, I don't think Four Dead Queens quite managed it.
Things I Disliked:
Hard to relate to any of the characters
MC fairly unlikable
Many unanswered questions and nonsensical rules
Unsupported lore
Boring secondary characters
Forced romance
Things I Liked:
Solid mystery and twist
Strong ideas
Conclusion:
A valiant effort, but ultimately forgettable in the long run
---
Since I only posted TWICE in June, I'll just skip the Top Posts and Reviews section. Here are those two posts I mentioned:
June 17th was my birthday!!!! I got so many birthday wishes and my friend treated me to some dessert AND gave me a cool skeleton key he found at work. I put it on a chain, so now I'm 2% more fashionable.
My upstairs neighbors jerry-rigged a hose to their sink and promptly started a leak in my bedroom at 2 in the morning. So I had to have my walls cut out, dried, dry-walled, and painted over again (a three day process). The only thing I was mostly worried about at first, though, were my books that were directly under the leak. But they were sheltered by the bookcase and I moved them just in time 🙂
My school library is closed for the summer! So now I have more time to read, blog, paint, play video games, and live life a little more.
I finally saw Aladdin! It wasn't as bad as I thought it would be! Jasmine was great, and so was Will Smith as Genie.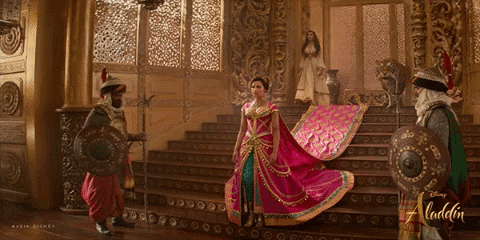 I really like this so far. Blood-thirsty sirens and hideously ugly mermaids are my favorite versions of those mystical creatures. And I do like the lore and terminology. I'm hoping it remains just as dark and captivating until the end.
The majority of these are unread books in my library that have been sitting on my shelf for more than a year. I don't plan to make too many new-ish buys this month (maybe Sorcery of Thorns, Tales of the Shadow Market, and An Enchantment of Ravens) and I know for sure I won't stick to this TBR, but a girl can hope.
And that was June! I'm excited for July! I have a lot of projects in mind (art-wise) and I plan to do more baking. Also Lion King finally comes out!!!! Hope it will be good. I wonder what amazing things July will bring 😉
Thanks for stopping by. Until next time ❤