Kristin Cashore has finally graced us (get it? graced? *wink*) with another installment in the Graceling Realm series. Granted, I had thought the series had ended with Bitterblue (which would have been a very disappointing conclusion to the series considering all those loose ends), but I'm not about to disregard the newest addition to the series. It's about time!!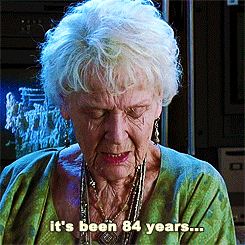 I really enjoyed this series back in high school, especially Graceling since it had introduced me to one of my favorite OTPs, Katsa and Po, and had also shared some proto-progressive views on marriage and child-bearing. I've reread Graceling several times over and it never lessens with each reading. However, I hadn't made an effort to reread either Fire or Bitterblue, the former being the most forgettable and the latter being a slight disappointment. Both, however, continued with Cashore's progressive messages, touching on marriage and children once more as well as casual relationships, women and periods, and slight LGBTQIA+ rep.
When I discovered Winterkeep would be released in January 2021, I made it a must to reread all three books in the series. I've never reviewed them, I just didn't feel the need to. But since I've finally reread all three, I thought why not?
---
Book 1
I can't remember why I picked this book up many years ago, but I'm so glad that I did. It's continued to be one of my favorites to this day. Graceling was a proto-progressive marvel back in the day, exploring messages of female empowerment and individual agency, challenging social expectations of marriage and child-bearing. Katsa is a wonderfully fierce and capable young woman. Her resilience and vulnerability are well-balanced, and her need for autonomy and complete ownership of oneself is a driving force in her decision-making, even in the romantic sphere. Even so, her relationship with Po is a bonding of equals and I admired Cashore for creating two characters who are sensitive to each other's thoughts and choices. Po is charming and intuitive, and his grace further allows him deeper knowledge of a person. However, his appeal stems from his ability to respect, not just Katsa, but everyone's boundaries despite his grace. Together, they make excellent soulmates. The world-building may be simple but the characters help to fill out the blank spaces. Leck's evil filters through the characters' fear of him and he is determinedly a terrifying villain whose presence looms over the latter half of the novel even though he rarely makes an actual appearance. This isn't a fast-paced novel, per se, but it keeps you interested in Katsa and her relationships, and the tension permeates throughout. 
---
Companion Novel
Fire is a very different story from Graceling. The Dells is an interesting setting, considering it is only reachable by tunnels connecting to the seven kingdoms and is inhabited by dangerous, brightly-colored monsters that mesmerize and prey upon humans and monsters alike. The monster concept was clever though not fully explored. There is no history or lore behind the creatures, a missed opportunity for a more expanded universe. 
The characters seem to be loosely modeled on the Graceling characters. Fire is Katsa, Giddon is Archer, and Po is Brigan. Unfortunately, they aren't half as interesting. Fire's strength lies in her telepathy and also her forgiving and kind nature. However, she lacks any sort of fierceness and appears largely frail and pitiful as a heroine. I kept hoping for more backbone from her and rarely received it. Archer, like Giddon, is a flawed character but is in no way endearing and Prince Brigan is just plain dull. The romance happens suddenly and is entirely unconvincing. The strength of the novel lies in the improved world-building as well as the passages concerning Leck. The prelude detailing Leck's background is much more interesting than the majority of the book which I would be hard-pressed to summarize. Cashore continues exploring progressive messages, further challenging child-bearing concepts, the stigma around casual sex and also a woman's menstrual cycle (though this becomes overdone and purposeless by the second or third mentioning). There are many highlights in this novel, in terms of messages, but there are many more questionable characterizations and sequence of events. I don't hate this book, but I certainly don't enjoy it as much as Graceling.
---
Book 2
Bitterblue had originally been a disappointment to me. I never disliked it as much as other readers, but the pacing and the conclusion had left a lot to be desired. After rereading, I can say much the same, but I'm not as dissatisfied with it as I had been previously. The pacing is even, yet slow. This is no action adventure; it's a mystery as well as a study in character growth. Bitterblue is a solid heroine. She can be very naive and many of her decisions are aggravating, but she's a self-aware character who can identify her weaknesses to find her strength. I loved the relationships she held close to her, especially Katsa and Po (who are different but not unchanged in this one, just much more animated and talkative). As Bitterblue struggles to adjust to her crown, she leans on the aid of close family and friends to challenge her fears and overcome many obstacles. 
The plot focuses on unraveling the mysteries lingering in Monsea and Cashore takes great pains to introduce a plethora of twists and turns to keep us on our toes. Sometimes the twists and turns go too far to the point of convolution. I'm not entirely sure the page length is justified. At times the questions are too many and the answers are withheld for added, yet pointless, suspense. As for the romance, I'm not charmed by Bitterblue's love interest, Saf, as his narrative is quite thin and his behavior is childish (though some of his behavior is understandable as their relationship is heavily influenced by power discrepancies and untruths). He does serve as a reasonable candidate for a first love, but not a long-term companion. Giddon and Bitterblue have more chemistry that I hope will be cultivated in Winterkeep. The book focuses on the journey of healing and along the way are some traumatic revelations that may be triggering for some, heartbreaking for others. Truthfully, it's a tough book to get through as Leck's abuses are made clear. There are too many loose ends by the conclusion so I'm thankful for Winterkeep and the continuance of the series. I'd love to see how Bitterblue's ministries affected the Monsean citizens and how the alliance with the Dells has further shaped her kingdom, as well. 
---
I had a great time rereading the series. Graceling is amazing and I'm glad I finally revisited the other two books. I may not have enjoyed them as much as the first book, but I always enjoyed the vibe of the series. These don't feel like run-of-the-mill YA/NA fantasy books. The main characters are endearing, so I'm excited to see cameos from Bitterblue, and the magic feels unique to each nation.
More lands are being discovered and the seven kingdoms are in a state of great change. I'm hopeful that Winterkeep will flourish in its expansion of the Graceling realm and will also reveal more characters to love.
That's about it for now! Thanks so much for stopping by! ❤