So, it's come to the point where I have to stop and think about all the unread books in my room. I mean…THERE ARE SO MANY.
How did I get here? Why is this a thing? When did this happen?
WHY CAN'T I STOP MYSELF FROM BUYING SO MANY BOOKS?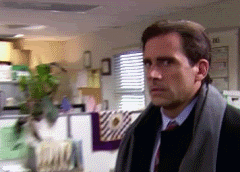 I used to be so good at getting a book, finishing it, and then moving on to the next one. But that was because I rarely bought books about three years ago. I almost always checked out books from the library or borrowed books from friends.
But once I began blogging, my home library started building up and then building and building and now I've got a great collection on my hands with not enough shelf space. I plan to buy more shelves or to at least get creative in how I arrange my books, but still…that doesn't solve the problem of my having way too many unread books in my library.
I thought I'd list all those books here. I want you to get the feel of how many unread books I actually have in my library.
BRACE YOURSELVES. WINTER IS COMING.
---
THE BOOKS
For myself and for you, I'm going to break all my books down into smaller sections to help divvy these books up and see what I've actually got on my hands.
NON-FICTION/BIOGRAPHIES
SEABISCUIT | Laura Hillenbrand
UNBROKEN | Laura Hillenbrand
CONTEMPORARY (Adult and YA)
THE BOOK THIEF | Markus Zusak
P.S. I STILL LOVE YOU | Jenny Han
THE IMPROBABLE THEORY OF ANA AND ZAK | Brian Katcher
A TALE OF TWO CITIES | Charles Dickens
DARIUS THE GREAT IS NOT OKAY | Adib Khorram
LITTLE FIRES EVERYWHERE | Celeste Ng
I'LL GIVE YOU THE SUN | Jandy Nelson
THE HATE U GIVE | Angie Thomas
1ST BOOK IN A FANTASY SERIES
CHILDREN OF BLOOD AND BONE | Tomi Adeyemi
WONDER WOMAN | Leigh Bardugo
INK, IRON, GLASS | Gwendolyn Clare
BEAUTY AND THE BEAST: LOST IN A BOOK | Jennifer Donnelly
REBEL OF THE SANDS | Alwyn Hamilton
MAGONIA | Maria Headley
THE DIABOLIC | S.J. Kincaid
NEVERNIGHT | Jay Kristoff
COURTING DARKNESS | Robin LaFevers
FURYBORN | Claire Legrand
---
THE NOVICE | Taran Matharu
THE LAST MAGICIAN | Lisa Maxwell
TEMPESTS AND SLAUGHTER | Tamora Pierce
ASH PRINCESS | Laura Sebastian
FOUR DEAD QUEENS | Astrid Scholte
THE SCREAMING STAIRCASE | Jonathan Stroud
THE RED SCROLLS OF MAGIC | Cassandra Clare
UPROOTED | Naomi Novik
FALLING KINGDOMS | Morgan Rhodes
LEGENDS OF ERIN: BEYOND THE CASTLE DOOR | Meadow Griffin
SUBSEQUENT INSTALLMENTS IN A FANTASY SERIES
SMOKE IN THE SUN | Renee Ahdieh
GLASS SWORD | Victoria Aveyard
KING'S CAGE | Victoria Aveyard
THE KILL ORDER | James Dashner
HEIR OF FIRE | Sarah J. Mass
OUR DARK DUET | Victoria Schwab
A REAPER AT THE GATES | Sabaa Tahir
HARRY POTTER AND THE ORDER OF THE PHOENIX | J.K. Rowling
SCIENCE FICTION
PITCH DARK | Courtney Alameda
RED RISING| Pierce Brown
STANDALONE FICTION READS
TO KILL A KINGDOM | Alexandra Christo
SHADOWHUNTERS AND DOWNWORLDERS | Cassandra Clare
CIRCE | Madeleine Miller
ALL THE CROOKED SAINTS | Maggie Steifvater
RED SPARROW | Jason Matthews
ANTHOLOGIES
STEAMPUNK! AN ANTHOLOGY OF FANTASTICALLY RICH AND STRANGE STORIES | Kelly Link
A TYRANNY OF PETTICOATS | Jessica Spotswood
ALL TOGETHER THAT MAKES…
A TOTAL OF: 47 BOOKS
That's right folks. Look at it. LOOK.
That right there is a grand total of 47 UNREAD books in my library at the current moment, not including the e-books I have squared away in my super secret vault of shame.
---
SO.
I've decided that by the end of this year, I will make it my mission to complete most, if not all, the books I've bought in the past two or three years, including the new books I buy each month. Now, I've limited myself to three new book buys each month (new books that are released this year, that is) and so that way I can still keep up with the hype, but also knock out some old reads by including some unread books from my shelves in my monthly TBR!
We'll see if I can actually manage to get all these read by the end of the year. It'll be tough, but I'm hella determined to make it happen.
---
How many unread books do you have in YOUR library?
Lemme know so I don't feel so alone LOL. Anyways, thank so much for stopping by! Until next time ❤