Down the TBR Hole is a weekly book meme created by the wonderful Lia @ Lost in a Story that attempts to organize our ridiculously long Goodreads TBR list by choosing either to keep or eliminate the books we've kept on there for YEARS.
I think this is a wonderful opportunity to take a closer look at our "to-read" shelf and possibly reduce the stress we might have in thinking that we HAVE to read every single book on our TBR.
Let's face it. Our interests change. Books we've put on our TBR list years ago may not interest us as much now as they did back then. So, I think it's time to really take a look at that list and see if all those books are actually what we'd like to read in our spare time.
According to my Goodreads, I have 203 books (and counting) on my TBR. There are some books that I haven't even added yet, which will surely make that number go WAAAAY up. I think it's time to clean house.
---
So How Does This Work?
Go to your Goodreads "to-read" shelf.
Order on ascending date added.
Take the first 5 (or 10 if you're feeling adventurous) books
Read the synopses of the books
Decide: keep it or should it go?
*Side Note: If you are going to repeat this process every week, make sure to keep track of where you ended. Start from the bottom and work your way up!
The Books: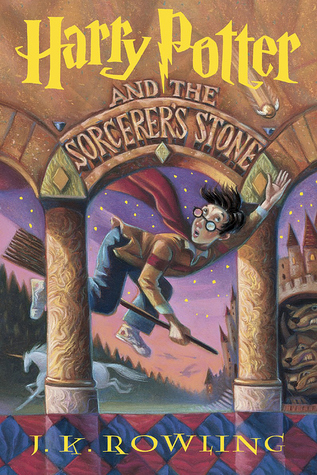 Harry Potter and the Sorcerer's Stone | J.K. Rowling
When I was younger, I wasn't allowed to read the HP series due to religious reasons. However, now that I'm older and I can determine the appropriateness of a book for myself, I've decided the HP series is no threat to me or my religion. Plus, I've always been interested in the HP phenomena. Therefore the judgement is:
Keep
---
A Game of Thrones (or A Song of Fire and Ice) | George R.R. Martin
I'm really behind on the TV show. I think I'm only on season 2 (I haven't even watched the Red Wedding, yet). And I haven't really made the effort to continue. I'm still interested in the show, but I think that's where my interest really ends. For now, the judgement for this book/this series is:
Go
---
Opal (Book 3 of the Lux series) | Jennifer L. Armentrout
I read the first book about three years ago but I can't remember reading the second book. So, I'm not sure if I was ever interested in continuing the series. The judgement for this one is:
Go
---
Intertwined | Gena Showalter
Honestly, I don't remember putting this one on my TBR. And I've never heard of the author. But I re-read the synopsis and the premise still seems prertty interesting to me. There are certain elements mentioned that I appreciate, and so the judgement for this one is:
Keep
---
The Dark Divine | Bree Despain
Oh would you look at that? Another book I have no idea when I placed on my TBR? I think I put this one on my to-read shelf about 4 to 6 years ago, but I'm not sure why. The cover's pretty… After re-reading the synopsis I'll say I'm intrigued. But then I read a couple of my friends' reviews and now I'm not so sure if I should go forward with this one…. Ah what the heck. I'll take a chance on it. The judgement is:
Keep